E ONLINE: Audrina Patridge: Inside My Self-Care Routine Exclusive
Audrina Patridge: Inside My Self-Care Routine
Exclusive: The Hills: New Beginnings star reveals her go-to beauty routine, her favorite way to break a sweat and one thing she can't go to bed without doing
"I have the power to choose."
That is the mantra that The Hills: New Beginnings star Audrina Patridge is living by these days, which she revealed to E! News as part of our Wellness Wednesday series. Each week, a celebrity is taking fans inside their at-home wellness routine, opening up about how they practice self-care. 
This week, the 35-year-old reality star and swimsuit designer shared her daily practices with us, including a lot of quality time and activities with her four-year-old daughter Kirra. Plus, she revealed her go-to indulgences (cheese, please!), favorite ways to break a sweat and her inspiring self-care tip. 
Affirmation or Mantra You Tell Yourself:
"I have the power to choose!" The way you think determines how you feel, which determines how you act. I am teaching my daughter Kirra about the power to choose, and how when we wake up, we choose to be happy and positive.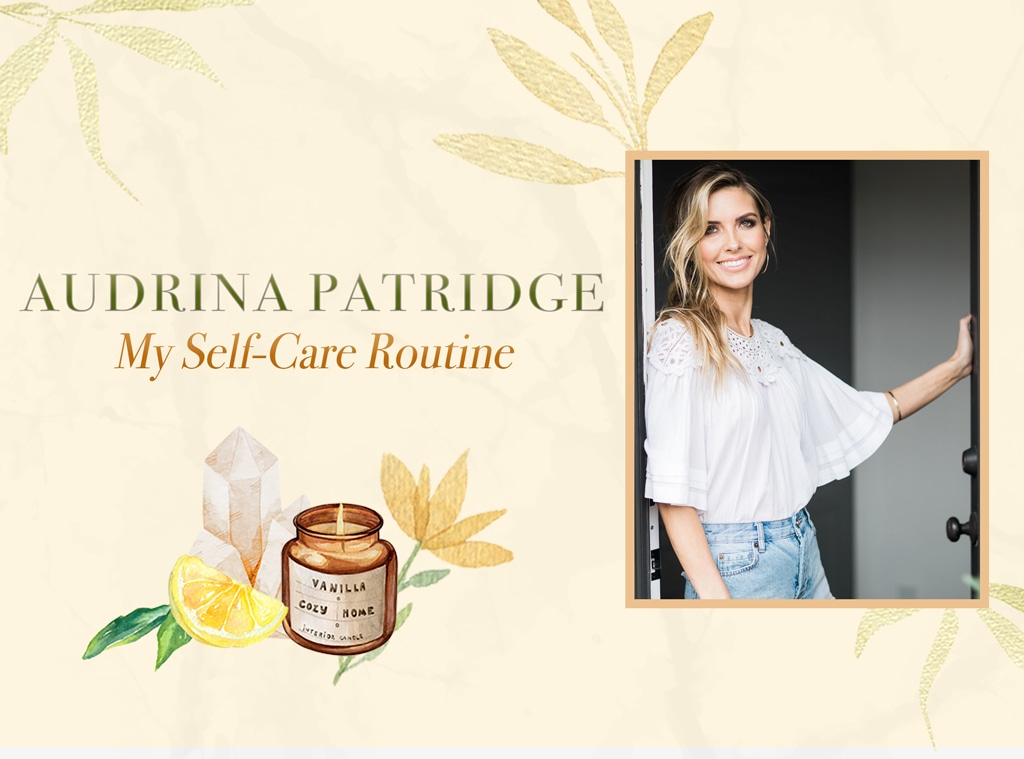 Ashley Burns Photography/E! Illustration
Three Things You Try to Do Each Day and Why You Do Them: 
1) Read the Bible. I try to start and end my day with the word of God, even if it's for a minute. It sets a positive tone for your day and ends your day on a positive note. 2) I always workout, if even for just 20 minutes. It's so important to be consistent and get your body moving every day. 3) Do a fun activity with my daughter, and be present in that activity. I make it a point to not be on social media or on my phone and give her my full attention as much as possible.
 Social Media Accounts You Follow for Positivity and Why You Follow Them:
1. @hyaluxe- super informative about health
2. @realtalkkim – a lot of uplifting content
3. @igmeals- I love this account for fun and easy recipes
Your Favorite Way to Break a Sweat Right Now:
Brooke Burke's app or Lightning Fit.
Your Go-To Snack:
Cheese and crackers with lots of cheese.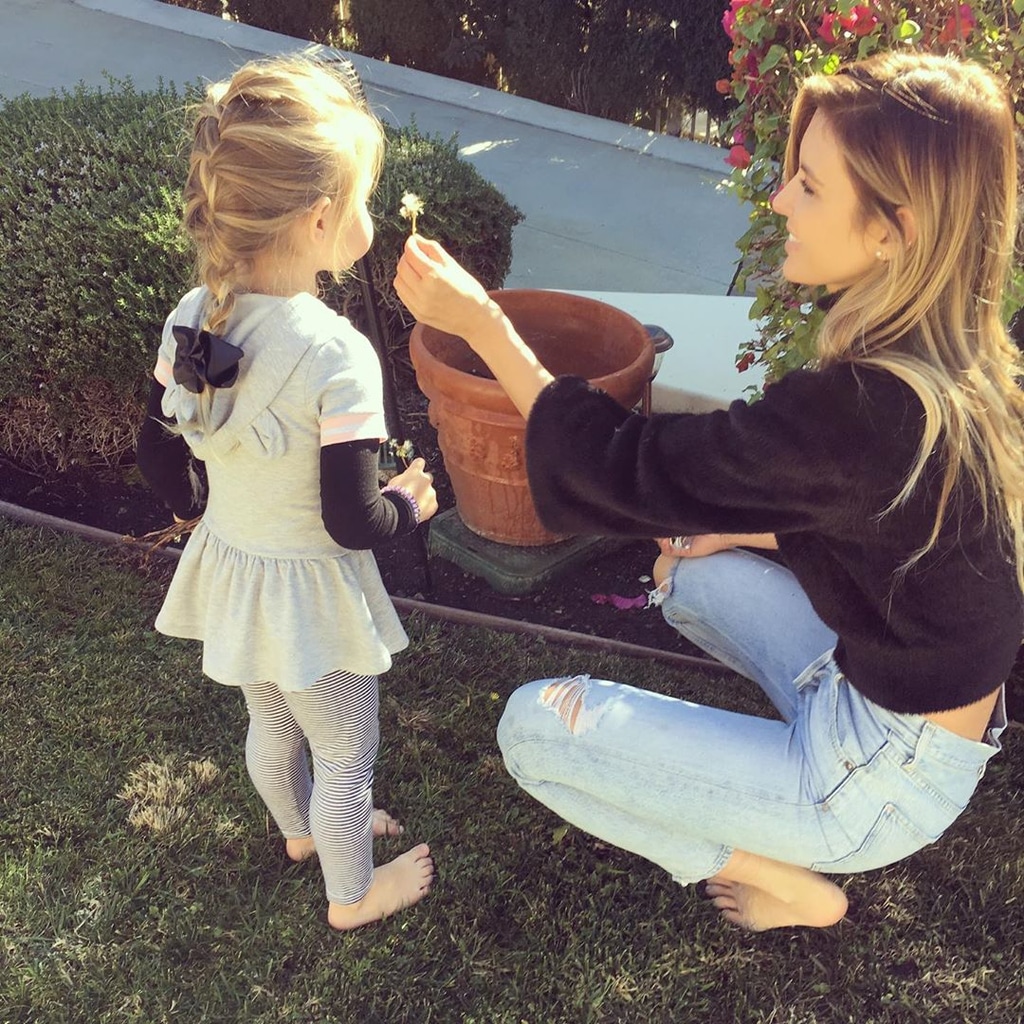 Instagram
Your Go-To Healthy Recipe:
Salmon with yakitori asparagus and rice.
Your Go-To Indulgence:
Mexican food! Tacos, beans, rice, chips and guac, enchiladas and margaritas.
Your Go-To Easy Beauty Routine:
Moisturize with The Route Beauty Everything Day cream then IT Cosmetics CC Cream, followed by NARS bronzer in Laguna Lips, Charlotte Tilbury Pillow Talk, and for lashes I like Hourglass Extreme Lash.
Your Current Feel-Good Song and Why It Makes You Feel Good:
"Don't Worry, Be Happy" remix by Nora van Elken. I like because it's upbeat, happy, and makes you want to dance. It's perfect to add in my summer mix.
The Apps or Podcasts You've Been Turning To:
The Calm app (Kirra is obsessed with the Shi Shi Panda Bear story). I really don't listen to many podcasts right now, but when I do, it's usually Rick Warren's message from the Saddleback app while driving in traffic.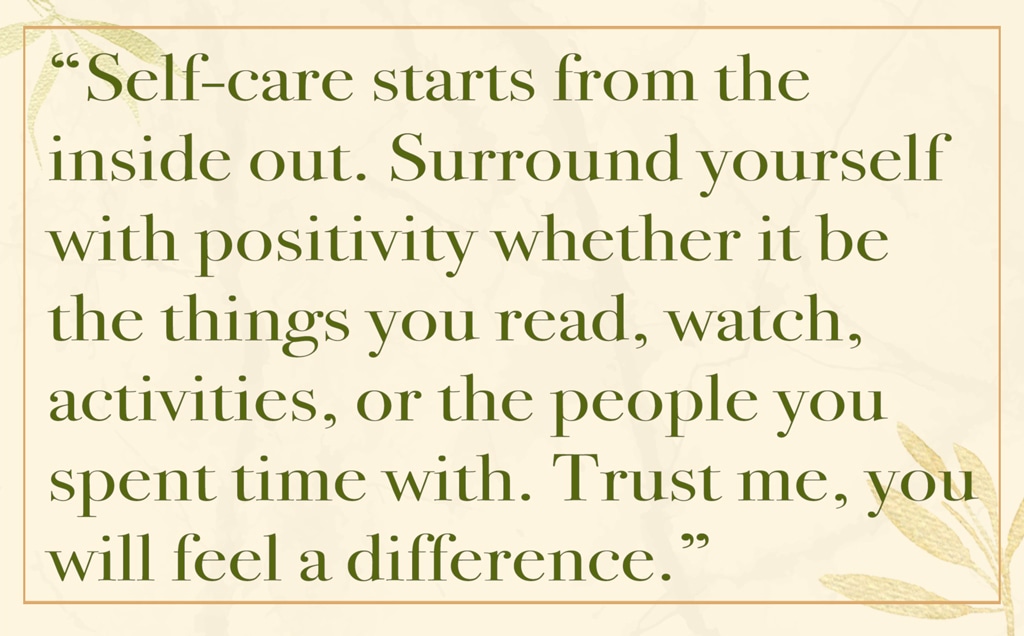 Your No. 1 Self-Care Tip:
Self-care starts from the inside out. Surround yourself with positivity whether it be the things you read, watch, activities, or the people you spent time with. Trust me, you will feel a difference.
You Can't Go to Bed Without Doing This:
Washing my face.
What Is Making You the Happiest Right Now:
My daughter Kirra makes me the happiest, always!
Your Reading Recommendation(s): The Ruthless Elimination of Hurry by John Mark Comer and Know the Truth by Gordana Biernat.
Leave a comment